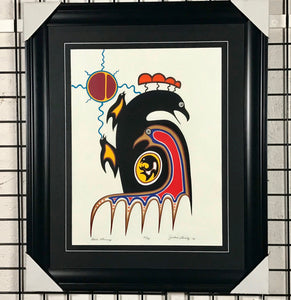 Jackson Beardy, 1944 -1984
Bird Harmony #97/99, 1976
18 X 24 sight
28.5 X 34 framed
Jackson Beardy was an Indigenous Anishinaabe artist born in Canada. His works are characterized by scenes from Ojibwe and Cree oral traditions and many focus on the relationship between humans and nature. He belonged to the Woodland School of Art and was a prominent member of the Indian Group of Seven.

This magnificent piece has been newly framed and  displays extremely well.
PICK UP OR DELIVERY ONLY
PLEASE CONTACT FOR ALL PICK UP AND SHIPPING IMFORMATION