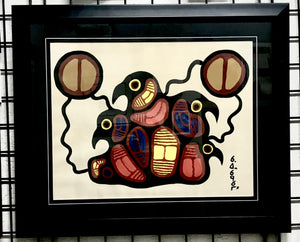 Goyce Kakegamic 1948-
acrylic, 1970's
17 X 22 inches sight
25.5 X 30.5 w/frame
Goyce Kakegamic was born in Sandy Lake, Ontario in 1948. He began painting as a teenager under the guidance of his Ojibwa brother-in-law, Norval Morrisseau, and Cree artist, Carl Ray, after Morrisseau's successful Toronto shows. Along with his brothers Josh and Henry, he formed the Triple K Co-Op, a silk screening operation in Red Lake. 

A very early piece by this artist.


PLEASE CONTACT FOR ALL PICK UP AND SHIPPING IMFORMATION