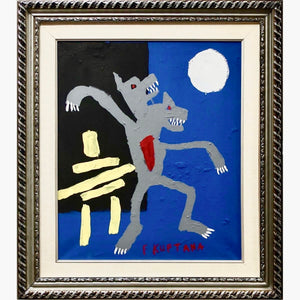 untitled, (Moon Dancer With Inukshuk)
acrylic on canvas
Floyd Kuptana, 1964 - 2021
Paulatuk (Paulatuuq)
20 X 24 inches - sight
28 x 32 inches - framed
Floyd Kuptana was a prolific Toronto based artist who worked in sculpture, painting and collage. His work often depicts themes of transformation in a playful and humorous manner. His work is widely collected and exhibited.
Enquiries at: info@arcticfinearts.com
905-979-9934
Thank you.