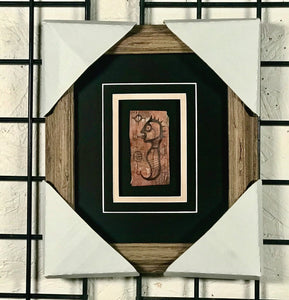 SPIRIT/LEGEND
Norval Morrisseau 1932-2007
painting on birch bark, m circa 1960's
2 X 3.5 inches

Norval Morrisseau, also known as Copper Thunderbird, was an Indigenous Canadian artist. Known as the "Picasso of the North"Morrisseau founded the Woodlands School of Canadian art and was a prominent member of the "Indian Group Of Seven".
This piece includes a 2014 appraisal for $1000.00.

More Morrisseau work is available in the gallery.
PLEASE CONTACT FOR ALL PICK UP AND SHIPPING IMFORMATION