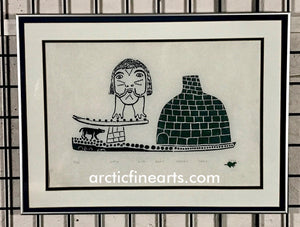 Kajutaijug-The Evil Spirit That Comes Knocking In The Night-1974
#16/30
Davidialuk Alasua Amittu, 1910 - 1976
Puvirnituk (Povungnituk)
19 X 25.5 inches framed
14 X 20.5 inches sight. 
Davidialuk Alasua Amittu was born in 1910 in Nunagiirniraq Camp, Northern Quebec A prolific and talented artist much of his work contains a narrative element, relaying the stories and legends of traditional Inuit culture. Davidialuk had a close relationship with his cousin Joe Talirunili and they both produced many sculptures in the 1950's and graphics in the 1960's.
Enquiries at: info@arcticfinearts.com
905-979-9934
Thank you.