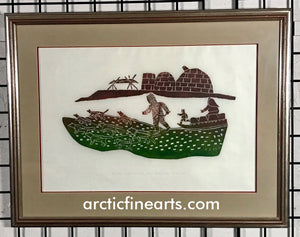 The Dog Sled Returns
Leah Qumaluk, 1934-2010
Puvirnituk (Povungnituk)
23.5 X 30.5 inches framed
15.5 X 23 inches sight.
Qumaluk began her career as a carver before moving  to stone block printing in 1960. She authored 95 prints and printed hundreds of other editions for other artists. She retired from printmaking in 1985. Qumaluk's work can be found in major collections, including The National Gallery of Canada, The Winnipeg Art Gallery andThe Metropolitan Museum Of Art.
Enquiries at: info@arcticfinearts.com
905-979-9934
Thank you.