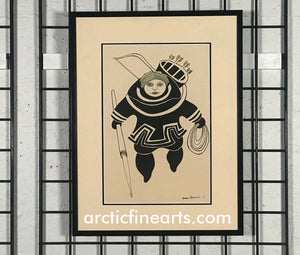 The Hunter
Germaine Arnaktauyok, 1934 - 2010
Iglulik(Igloolik)
original felt tip drawing
16 X 21 inches framed
10 X 15 inches sight.
Arnaktauyok is well renowned for her talents as an illustrator and printmaker.
Her first public exhibition at the Winnipeg Art Gallery in 1998. The exhibition featured her drawings and prints from 1970–1997.
In 1999, she designed a special edition two-dollar coin commemorating the founding of the territory of Nunavut for the Royal Canadian Mint.
Arnaktauyok has also had great success as an illustrator of children's books written in both Inuktitut and English.
In 2021, she received a Governor General's Award.
Enquiries at: info@arcticfinearts.com
905-979-9934
Thank you.