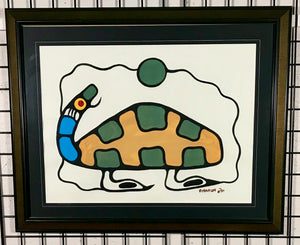 Brian Marion 1960 -
original acrylic
21.25 X 29 inches sight
31 X 38.5 w/frame
Brian Marion was born in Kamsack, Saskatchewan and grew up with the Saulteaux and Cree of the Prairies and the Ojibway of the Northern Ontario. He began a 9 year apprenticeship with Norval Morrisseau in 1975. His work has been widely collected, exhibited and utilized in projects by Robbie Robertson, Buffy St Marie, Ikea, book publishing and more.
Excellent condition - nice original frame.
PICK UP OR DELIVERY ONLY